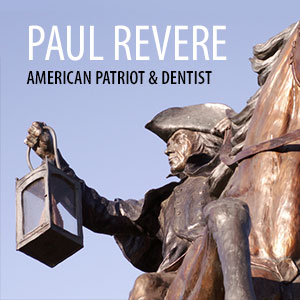 While celebrating all that a new year brings, take a moment to remember the New Year's Day birthday of a true American patriot: the legendary Paul Revere. Ironically, he became a legend some 80 years after his midnight trek to warn colonists of approaching British troops, thanks to Henry Wadsworth Longfellow's 1861 poem "Paul Revere's Ride." He was much better known to his fellow Bostonians as a prosperous silversmith, engraver—and "artificial teeth" maker.
That's right. Among his many business endeavors, Revere's résumé also included dental prosthetics, specifically custom dentures made of ivory. For the time, his work was state-of-the-art technology that far surpassed older tooth replacement methods.
But when we compare Revere's foray into the dental arts and today's restorations, his high quality 18th Century dentures were the proverbial "horse and buggy," while modern denture technology seems like "supersonic transport." Not only are today's dentures made of superior materials that are more "toothlike" in appearance, the means to create them using digital technology gives wearers a more secure and comfortable fit.
The modern denture—an appliance that replaces multiple or all lost teeth—is composed of a polymer base, usually acrylic that is colored to resemble gum tissue. Attached to this base are the prosthetic ("false") teeth that replace those lost along the jaw. These new teeth are usually made of a durable dental material like porcelain that looks and functions like real teeth.
The basic design of today's denture hasn't changed much in the last century. What has changed is our ability to create dentures that follow an individual jaw contours much more precisely. Using the latest digital technology, we're able to obtain highly accurate impressions of the mouth to guide the manufacturing process. Fit is critically important for how dentures feel and function in the mouth. If they are too loose, they become uncomfortable and limit which foods you can eat.
If that weren't enough, recent advancements with dental implants have taken dentures to an entirely new level, beyond anything imaginable in Revere's day. We're now able to create dentures that connect or are permanently affixed to implants set within the jaw, which makes them more stable and secure. An implant-supported denture also helps prevent bone loss, a weakness of traditional dentures, causing them to loosen over time.
As amazing as they are, we wouldn't have the modern version of dentures without craftsmen like Paul Revere who helped advance the cause of dental restoration. So, lift a glass of holiday cheer this season to this hero of the American Revolution—and of American dentistry.
If you would like more information about tooth replacement restorations, please contact us or schedule an appointment. To learn more, read the Dear Doctor magazine article "Removable Full Dentures."